Siding is installed on a home to protect it from rain, snow, wind, and cold weather. This first line of defense from the elements should be durable and aesthetically pleasing.
Is It Time to Replace the Siding?
Along with the roof, siding is critical to protecting the integrity of a home. Knowing when to replace siding is important for a home's ongoing maintenance. If the current siding shows signs of the following issues, replacing it should be considered.
Rotting: For homes with wood siding, rotting occurs when moisture is present. If left untreated, the rot will lead to further decay.
Warping: If there are portions of siding that are no longer flat, serious damage may be underneath the surface.
Cracking: Visible cracks on any siding material create entry points for moisture and pests. Inspect the severity of the cracks to determine if total siding replacement is necessary.
High Energy Bills: A surge in monthly utility bills may indicate that air is passing through the home. Leaks in windows or doors could also be the cause, but if those are ruled out, the siding is likely at fault.
Interior Moisture: Water can enter a home due to poor siding material or installation. Moisture leads to mold and mildew inside of the home which can cause a myriad of health problems for occupants.
Bubbling: Bubbles on the siding surface occur when water is trapped underneath the siding. New siding is a must to prevent moisture from entering the interior walls.
Fading: If the siding's color has faded considerably, its waterproofing capability has likely decreased.
Why Fiber Cement Siding Is Superior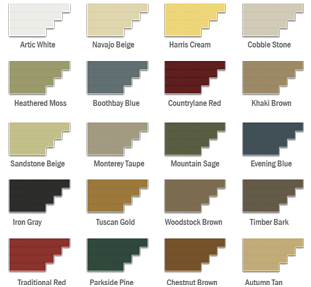 Fiber cement is made up of four ingredients: water, wood pulp, sand, and portland cement. Fiber cement siding is available in a wide variety of styles and colors. It complements traditional or modern exterior home designs. Textured or smooth finishes can be accomplished using fiber cement siding.
Compared to other siding materials such as wood, aluminum, or vinyl, fiber cement siding outperforms them all.
Non-combustible.

In climates that are prone to wildfires, some insurance companies offer discounts to homes that have fiber cement siding.

Durable.

High humidity, strong winds, heavy rain, and salt air do not affect fiber cement siding.

Pest-Resistant.

Termites and insects will not find a home in fiber cement siding. Since the seams do not overlap, another level of protection is added.

Easy Maintenance

. No harsh chemicals are needed to keep fiber cement siding clean. Spray with a garden hose every 6 to 12 months.
James Hardie Is the Leader in Fiber Cement Siding
James Hardie is the manufacturing leader in fiber cement siding. Offering many products, colors, and styles, James Hardie uses testing and research to improve its products. Some of the style options and products they offer include:
Lap Siding

Vertical Siding

Shingle Siding

Trim Boards

Soffit Panels

Cement Boards
James Hardie fiber cement siding comes in a variety of colors to coordinate with the existing exterior decor. Their ColorPlus Technology provides long-lasting color. Multiple coats are applied and then baked to create a strong finish that resists cracking and chipping.
About Banner Construction
As a James Hardie Elite Preferred Contractor, Banner Construction specializes in the installation of fiber cement siding. Beautifying homes since 1993, Banner Construction is the preferred exterior restoration contractor in the St. Louis area.
In addition to installing James Hardie fiber cement siding, they also install premium vinyl siding and premier replacement windows.